I'm truly grateful that yesterday I serve lovely client for having portrait shooting in Hong Kong, we enjoy so much for what this city had, people kindness, good transportation (I try the old tram too), and surely the food that you must eat in Hong Kong. I could say that yesterday session was very interesting cause we start at 9 am to go to Chun Yeung Street (Wet Market) than exploring the city as well till ended with the glamorous Symphony of Lights at Avenue of Stars.
11 Food That Must Eat in Hong Kong
It's not common for someone to get honeymoon in Hong Kong but I knew some friends going to this incredible town following their wedding day, see the people crowd and enjoying morning dim sum in such local restaurant are some activities that you can take to enjoy your honeymoon. Today I'm so excited to share some tasty local Hong Kong food that you must eat, it's gourmet, delicious and so authentic.
Hope you inspire with this story!
1. Egg Waffle
There is one local snacks that you might find in any corner and that is the Egg Waffle, made with fresh ingredient like flour, water, and sugar on the hot typical Hong Kong waffle maker which has a ball shape in all around than simply roll it in a brown paper bag.
If you want to looking for it than one of the famous store is Lee Keung Kee, they have few stores in Hong Kong but the main outlet will be in 178 Nathan Rd, Tsun Sha Tsui | take the MTR to Jordan, take exit D and walk to your right down King's Rd, thank you too for Hungry Geek for the recommendation.
2. Fish Siu Mai
Siu Mai is my number two favourite snacks that you must eat in Hong Kong, used to be sell in the same place with the meatball and octopus satay, this authentic snacks will served in a styrofoam cup and compliment with soy sauce. You can ask the outlet staff about how many Siu Mai that you want, once they put your own on the cup than they provide you with the bamboo stick.
3. Octopus Skewer
Octopus skewer or satay is my list number 3 from the most lovely dish in Hong Kong, generally there are 3 (three) style to enjoy this tasty food, sticked on a bamboo, chop and put in a cup plus additional soy sauce, and eat with authentic mayonnaise. You can find this skewer style in the same outlet which sell fried fish ball and Siu Mai and 1 pack will never enough.
4. Mango Pudding
Having a pudding is a must when visiting Hong Kong, it is one of most favourite dessert for Hong Kong citizen so don't stop eating when you are done with your dinner and go walk for little bit more and find some pudding store before you come home. Outlet which sell pudding used to sell another dessert so you may choose various of pudding with optional flavour.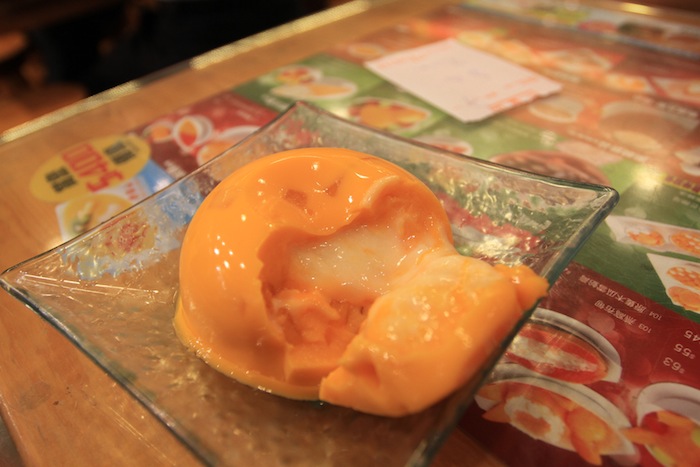 5. Mango Ice Cream
Once you're done with the pudding than you can take your second order by having such fresh and cold ice cream, it comes with various flavour but mostly are fruits. Hui Lau Shan and Lucky Dessert are two most recommended outlet to get dessert after your dinner and be ready for queue when you go there at night.
6. Dim Sum
Are you sure for not taking Dim Sum while visiting Hong Kong? No you wouldn't cause it is a must!
Actually Dim Sum culture is used for breakfast even now everybody can take Dim Sum for whole session (breakfast, lunch, dinner even brunch and supper). Dim Dum chef will provide this authentic Hong Kong food start from 4 am, they boiled water and steam all the Dim Sum above the bamboo basket.
King's Dim Sum is one of the best street Dim Sum that you can try even this picture below is a Dim Sum that I eat in a fine restaurant inside the Disneyland, go for it and you gonna enjoy this such food from paradise.
7. Egg Tart
Even I'm not too sure this belong to Hong Kong authentic food or not but you can find egg tart in any countries that had a Chinese citizen in it, I travel to Macau and Singapore and there is still Egg Tart to sell but the most important thing is this kind of pastry is extremely delicious. When you visit Macau too than you must go to Senado Square and there is Pastelaria Koe Kei outlet than you must but this snacks there!
You could find egg tart in any pastry store in Hong Kong even they used to sell this sweet pastry together with egg tart and this is soooo tasty!
8. Pork Buns
When you go to Dim Sum outlet than they must sell this pork buns menu, fresh ingredients from flavour, chop sweet pork inside the moist bun than you must eat it for sure.
9. Wonton Noodle
Generally wonton is noodle soup with beef or pork broth that compliment with slice of meat, super tasty and heavy but this gonna be the best menu for lunch pr dinner. Wonton chef used to put this noodle and broth on a bowl, put slices of meat for the topping and they gonna put fresh bean sprouts and celery after it, tasty!
10. Fish Ball and Roll Beef Skewer
When you go to Ladies Market, Causeway Bay, or downtown Sham Shui Po than you gonna meet various street outlet selling fish ball and various of skewer. They will steam or fried all the snacks inside the glass box with your command. A pictures below is taken in Ladies Market (my wife most favourite place to visit and I can bet that your wife will ask to come here too) and I bought 2 fish ball, 1 cup of Siu Mai, and 2 octopus skewer….it's perfect!
11. Fried Pig Feet with Crispy Topping
Following the portrait photo session in Chun Yeung Street, my client are hungry and we ask our lovely driver, Simon, to take us into one great local restaurant above the sea food market. I can't believe that all the menu come with Cantonese letter so we need to ask carefully what it is, but I could say you must visit this place.
This fried pig feet and crispy topping are insane! combining with chop of vegie below (even some of us not eat the vegie) but it comes in a big white plate just like the picture below.
Hong Kong Basic Information
Before I end this story than let me guide you with some basic regulation of visiting Hong Kong, I love this place so much and twice being here on summer and winter than that's why I suggest you to come on winter during January to February cause the weather is perfect.
Visa
I sure that Hong Kong government will give you free visa to come as long as you got 6 months passport validity minimum, so all you need to do is buy your international cheap flight ticket (you gonna find it as well) and book a hotel.
Local Transportation
Using old tram, bus, and its subway called MTR are 3 (three) most recommended local transportation to sightseeing Hong Kong. It is cheap, fast, and what else that you could ask more for this perfect transportation. By the way I travel a lot with MTR even I also rent a car during my 10 hours of photo shoot but when you expecting of using bus or MTR than buy the Octopus Card on the airport is extremely recommended.
Hotel di Hong Kong
Having twice to go to Hong Kong I try few hotels that really recommended due to its location and hospitality so let me share all of them below:
Yes Inn Causeway Bay (budget) – I'm not quite sure that they close the Fortress Hill property unit cause I live there but Yess Inn has different location in Causeway Bay which will be better if you want to stay in a down town area. 7 eleven 24 hours convenient store, food, and MTR station are simply in a walking distance
Marigold Hostel (budget) – I stay here for 3 nights and the locations was extremely recommended cause no matter where I wanna go than the East Tsim Sha Tsui MTR station is only 70 meter from my buildings and yes you could see the signage once you walk out from the building. Room is small and this is how the budget hotel in Hong Kong gonna be but they provide good facilities such as TV, fridge, and nice bed to take a night sleep.
Four Season – I wouldn't say any rejection about this awesome hotel, room is large and come with great hospitality for sure. Highly recommend if you expecting to stay in a luxury hotel for business or fast trip. The most lovely thing to stay in this hotel is you could walk for little while and reach ferry pier where you can see Hong Kong sea view beautifully.
Travel and Street Photography Tips in Hong Kong
Once I'm done with wedding and portrait shooting than me and my wife will walk away and exploring the city so I bring such as tiny camera EOS M to take a joyful travel and street photography. If you to have this hobby for your own than you're not only can save all the files on your computer but you also could try to sell it on Shutterstock just like what I did.
The minimum pay out that you could earn is $0,25 even I also get for $1,88 and $8,80 per download, that's good penny rather than just save the files on a hard drive and we know it gonna be full after years of traveling.
Try to have fun with this amazing platform and start earning for what you shoot during holiday, you could see some inspirational screen shots below.
---